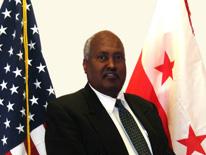 Mohamed A. Mohamed was appointed Associate Chief Financial Officer for the Government Operations and Higher Education Cluster (GOC-HEC) in 2008, with oversight of a combined budget of $2.5 Billion.
With more than 20 years in public financial management, Mr. Mohamed provides the Cluster with demonstrated experience in leading high profile developmental projects, organizational leadership and strategic planning initiatives. He began his finance career as a Financial Analyst for the Department of Public Works, delivering cost saving and revenue-generating solutions on behalf of District tax payers. During his time with DC's Metropolitan Police Department, he identified $5 million through cost reduction and fleet privatization. This measure earned him Employee of the Year.
In addition to his academic qualifications and varied job experience, Mr. Mohamed has attended numerous executive training courses at various institutions including the Executive Leadership Program, Public Financial Management at the J.F. Kennedy School of Government Harvard University and Advanced Financing courses for Senior Executives at the University of Wisconsin (Madison).
Mr. Mohamed is a member of the Government Finance Officers Association, National Association of State Budget Officers, and is a Certified Fraud Examiner.